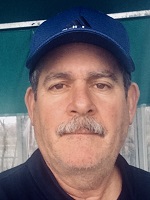 Mr. Bob Townsend | Garden City, NY | Certified Instructor: #T3687
Golf Lessons: (516) 633-8654
Bob has been an avid golfer all his life. Originally introduced to golf by his father when he was six years old, he fondly remembers becoming a member of 'Arnie's' Army' when he followed Mr. Palmer around at the Doral Open. As a native Floridian, golf was always a part of his life, even after moving to Long Island, NY. Always a student of the game, Bob cherishes his time on the golf course with friends and family, always helping those in need of a little instruction or giving someone advice when they asked.
After his retirement from a career in the Air Force, he started a second career working in schools coaching young students in several sports. For the past fifteen years, he has spent most of his time coaching youth athletics. Recently, his goal has been to teach golf to today's youth, providing them with the foundations that will enable them to feel comfortable on a golf course, while inspiring them to make intelligent, informed decisions both on and off the golf course.
Bob is a member of the United States Golf Association, a certified golf instructor through the National Registry of Professional Golf Instructors, and a Professional Coach of Field Hockey, Track and Field, and Baseball/Softball in the State of New York.
His understanding of the golf swing and his calm demeanor enables him to patiently instruct beginning and novice golfers in a casual, relaxed atmosphere. Bob provides both one on one and group instruction to all age levels, and ensures that his students learn how to play golf as well as the etiquette of the wonderful game of golf.